Polished concrete styles – Interior
A Polished concrete floor is created by multiple grinding and polishing passes, refining the surface to the point that it starts to reflect light.
This is not a coated floor that will scratch or wear off quickly.
High quality densifiers, grouting products and penetrating sealers are used to tighten and seal the surface, giving a very durable and abrasion resistant material that looks amazing.
The exposure and gloss level can be tailored to suite the design of the area where Polished Concrete is being used.
Below are the 4 levels of exposure that are achievable. Each can be finished in matte, satin or high gloss.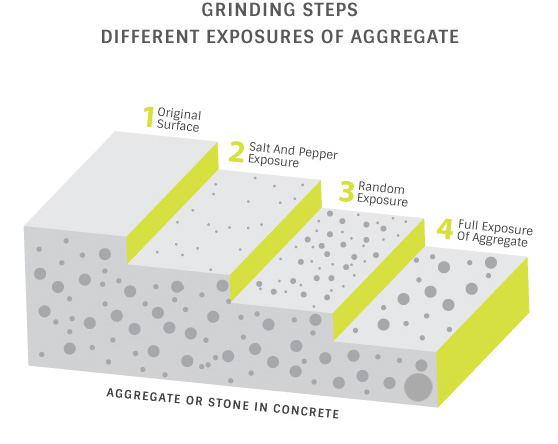 Honed Concrete (outdoors)
Perfect for outdoor entertaining areas, paths, around pools or anywhere that a smooth, but non slip, decorative concrete surface is required.
–
Surface Preparation
We can grind off an array of glues and tile adhesives including old epoxies or paints. Preparing a concrete surface for a new floor is vital to the correct installation.
We can level, and prepare concrete to suit a variety of flooring finishes.
We can also correct damaged joints in floors and other issues that may arise during construction.
–
Concrete Furniture
We see concrete as a versatile and amazing product that can be used to create various types of concrete furniture and show pieces. From bench seats, to fireplace hearths to counter tops and BBQ surrounds.
Call us to discuss the endless opportunities.